Yes, we will be filing a lawsuit to
stop!
the sale of the Brooklyn Heights public library! As you know, the City plan is to sell the library to a private developer who will instead put up a 36-story condo tower that will completely cast a shadow over the adjacent public parkland during the afternoon hours of the day.
Despite what you may have heard, this misplaced tower is not As of Right or within the limits of the zoning code. In fact, the developer applied to City Planning for a special zoning permit to allow an illegal height and set-back. We need your help and participation (including we
now ask for your donations
) to stop this wholesale usurpation of the people's light and air and to protect the adjacent parkland.
They Misrepresented the Facts of the Matter
Besides which, we've been lied to about the money. For three years, Brooklyn Public Library (BPL) has been crying that it is too poor to make needed repairs, like fixing the library's air ventilation system or the elevators to the Branch Library on the second floor. But, in fact, city budget reports show BPL is sitting on approximately $168 million in unspent capital funding, which funding the library corporation has been hoarding over six fiscal years.
BPL has been crying poverty, meanwhile pushing forward a lucrative real estate deal in which parties others than the public have vested financial interests. The agenda being carried out by its trustees is entirely at odds to the public interest, welfare and the BPL's proper mission in looking after the public trust.
In short, we've been hoaxed. And we need your help to stop this travesty.
"Save NY City's Public Libraries" -- Launches Online this Thursday, April 7th with a Celebratory Launch Party Friday April 8th
Defending Libraries: Friday April 8th Launch Party- "SAVE NY CITY'S PUBLIC LIBRARIES"
Keep up with the latest on our
Facebook page
and our
Twitter
posts.
Here is a link to an Evite invitation you can share to
invite
people to our litigation launch party:
Here's a link to our Facebook Event Page for our litigation launch party that also tell people about our GoFundMe site:
Here are Tweets you can retweet to help let people know about our launch and our new GoFundMe page. . .
Facebook event page for our launch of Save NY City's Public Libraries-LIVE for donations!
https://
goo.gl/ait1q6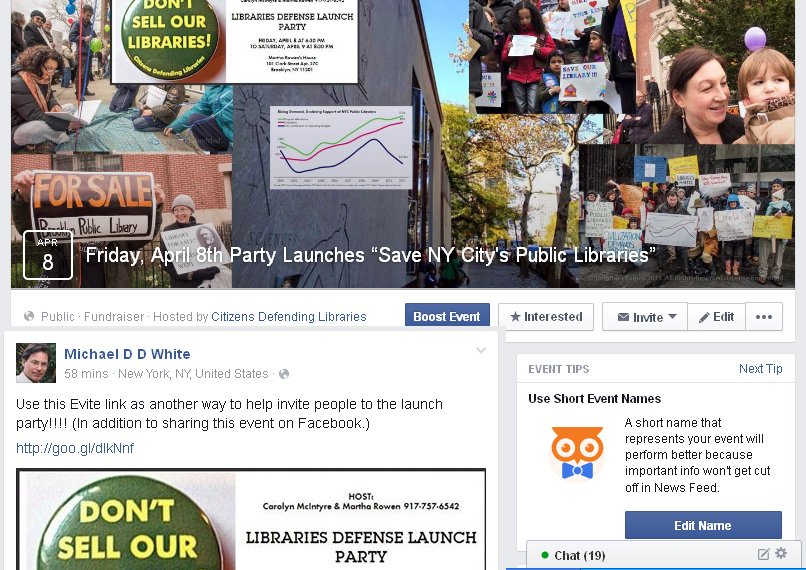 TWEET TWO
https://twitter.com/DefendLibraries/status/718142531347857409
Our Save NY City's Public Libraries GoFundMe site is now LIVE for donations! Contribute!
https://
goo.gl/NtvzBd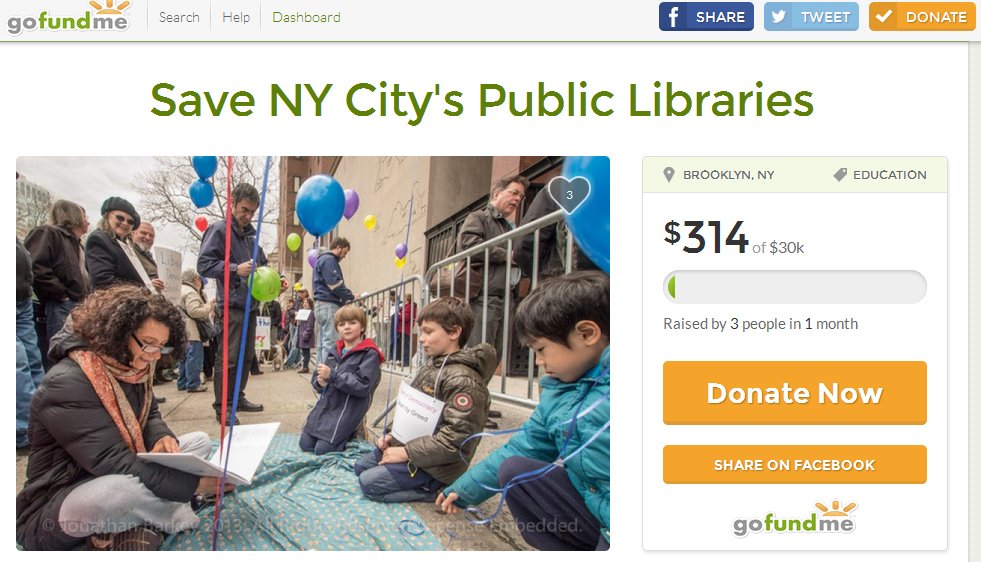 TWEET THREE
https://twitter.com/DefendLibraries/status/718134329092743168
Our Save NY City's Public Libraries GoFundMe site is now LIVE for donations! Yes, we are litigating!- Contribute!

https://

goo.gl/NtvzBd